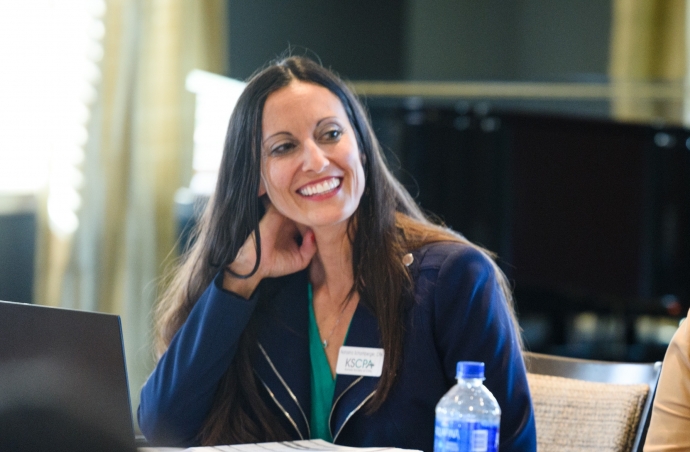 Kansas Society of CPAs President & CEO Natasha Schamberger is Leaving; Executive Committee Initiates Search for the Next CEO
January 10, 2022
Natasha Schamberger, CPA, president and CEO of the Kansas Society of CPAs (KSCPA), announced she is leaving after nearly six years. In March, she will transition to her new role, serving as the North American Regional Director at Allinial Global, an association of accounting and consulting firms with offices in North America and worldwide.
Over the last several years, Natasha's enthusiasm and dedication to the accounting profession have been instrumental in moving the KSCPA forward. Under her leadership, the KSCPA has strengthened and maintained positive relationships with partner organizations, effectively executed strategic priorities that benefit members each year, and promoted CPAs' interests and livelihood. Notably, Natasha led the establishment of the Accounting Career Kick-Start Program, collaborating with key partners of the overall accounting ecosystem to inspire young talent to choose accounting. As a result, the Society is well-positioned to continue this momentum, so the KSCPA, its members, and the profession in Kansas are future-ready.
"We will miss Natasha greatly but are excited to see her grow and thrive in her next opportunity. We are thankful for her service, leadership, and dedication to not only the KSCPA but the profession." Amber Goering, KSCPA Chair of the Board, said. "Natasha leaves us with a great team and foundation in place that we look forward to building upon in the coming years."
The search commences on January 10, 2022, and a 6-member search committee, designated by Amber Goering, Chair of the Board, will oversee the search process to hire a permanent CEO. The search committee is committed to identifying an exceptional leader who can guide the Society through an increasingly complex yet opportunistic professional landscape.