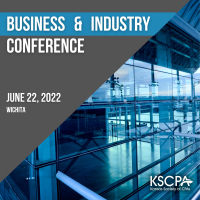 KSCPA Business & Industry Conference
Seats are limited - Register today to reserve your spot! CPE Categories: Various (8 CPE)
June 22, 2022, 8:00 am-4:30 pm | Wichita Marriott, 9100 E Corporate Hills Dr, Wichita, KS 67207 | KSCPA
Members: $299.00, Non-members: $379.00
Interest Areas: Business and Industry, Fraud, Leadership Development, Cybersecurity, Technology, Finance, Personal Development
Description
The KSCPA Business & Industry Conference, June 22 in Wichita, offers 8 hours of recommended CPE credit. The Conference addresses the unique technical and professional challenges of the CPAs working in business and industry.
Who Should Attend?
CPAs, accountants, bankers, & attorneys in business & industry and those in public practice who want to better communicate with their B&I clients.
Course Objectives
To update CPAs, leaders, and business professionals in business and industry on the latest issues and trends.
Schedule
8:00-8:10 am- Welcome and Announcements
8:10-9:25 am - Fraud Update - Stephen Browne, CPA, ABV, CITP, CFE, CISA, CFF
9:40-10:55 am - Economic Update - Chris Kuehl, Ph.D.
11:05-11:55 am - Cybersecurity - Chris Hoose
12:55-2:35 pm - Finance and Innovation: Reinvent Your Department and Your Company - John Levy, MBA, CPA
2:50-4:30 pm - Communicating Financial Information to Non-accountants - John Levy, MBA, CPA