KSCPA Invests in YOU, Our Future Talent!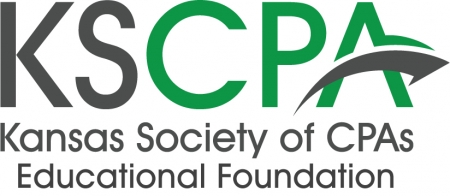 The Kansas Society of CPAs Educational Foundation is seeking applicants for our accounting scholarships. Our new scholarship platform makes the process quick and easy for you to apply!
The KSCPA Educational Foundation has a long history of supporting college students and the accounting programs at Kansas colleges and universities by providing four annual scholarships to eligible applicants who demonstrate an eagerness to join the accounting profession. Winners are selected by the KSCPA Educational Foundation Board of Trustees. Submission of an application is required.
KSCPA Educational Foundation Scholarships
2024-2025
Additional Scholarships
The KSCPA also awards a total of 14 scholarships annually to students selected by accounting faculty at each of the Regent Universities & Washburn University.
Accounting faculty at each university select one undergraduate accounting major and one graduate accounting major to receive the KSCPA Educational Foundation college scholarships.
Contact the scholarship coordinator at your university's accounting department for information.


Other Financial Aid and Scholarship Support
Financial Aid Resources for Minority Students
Scholarships for Minority Students
Financial Aid Overview for Accounting Degree Programs
Scholarship Opportunities from AICPA

KSCPA Offers Other Support
In commemoration of the 50th Anniversary of the Educational Foundation, the KSCPA Educational Foundation awarded the T.C. and Trella Anderson and James T. and Mary Ann Clark Doctoral Scholar scholarship to the University of Kansas. The $300,000 endowment granted on January 17, 2013, will help to fund doctoral scholars who are CPAs.