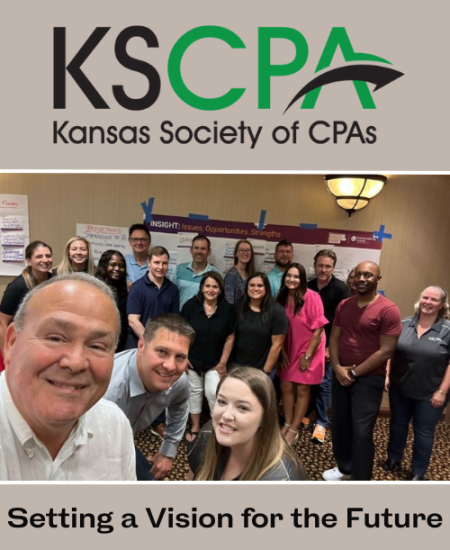 Setting a Vision for the Future
September 27, 2023
A KSCPA Ignite Blog by:
Danielle Hologram, CAE, President & CEO, KSCPA
The KSCPA Board of Directors meets annually for a strategic planning retreat. The retreat allows the KSCPA board to reflect on our achievements while considering how we can reimagine and reinvent ourselves to deliver membership value into the future. This process includes frank conversations about what we can realistically achieve, including deciding what we need to stop doing. In addition, we challenge ourselves to take bold and creative steps to ensure that we are future-ready. Following our strategic planning session, we wanted to share some essential takeaways that reflect our dedication to the profession and our commitment to you, our valued members:
Strengthening the CPA Pipeline
Our top priority is to place a greater emphasis on the CPA pipeline. We are dedicated to expanding the KSCPA membership and ensuring our members remain connected and engaged.
Our Commitment to the Profession
The KSCPA board is made up of passionate CPAs who are deeply committed to preserving and promoting our profession. We've taken time away from our regular duties to focus on this mission, emphasizing its importance to us.
Spreading the Word
We need your assistance in amplifying the message about KSCPA's initiatives. It's crucial for more individuals to be aware of our work and to be enthusiastic about joining our ranks.
Planning for the Future
We've given deliberate thought to the future of our profession and have strategized on how to ensure the continued growth and success of our organization.
Supporting Our Initiatives
We urge members to familiarize themselves with and support the initiatives we've outlined. Your active participation can significantly impact their success.
A Call for Collaboration
We recognize that some challenges we face are larger than our organization alone. We're doing our part, and we need your collaboration to make a more significant impact.
Our Dedication
We want you to know that we are putting in the hard work and effort required to achieve our goals. We're also focusing on reaching out to younger generations, including high school students, to introduce them to the world of accounting.
Feedback is Welcome
We value your input and would love to hear your thoughts on how we can enhance your membership experience and what you'd like to see from KSCPA in the future.
Our Promise
Despite the challenges we face, we remain committed to finding innovative solutions. The board and KSCPA staff are here for you, working diligently to ensure the success of our members and the accounting profession at large.
In conclusion, our strategic planning session was a testament to our dedication to the profession and our members. We are excited about the future and look forward to achieving our goals together.
2023-2024 Strategic Priorities
Download the full strategic plan - KSCPA Strategic Plan 2023_2024.pdf
The Ignite blog is an official publication of the Kansas Society of CPAs, Copyright 2023.
THANK YOU TO OUR SPONSORS & PARTNERS IN ACCOUNTING EXCELLENCE!

Would you like to showcase your business by sponsoring the Ignite blog? Click here for more information.