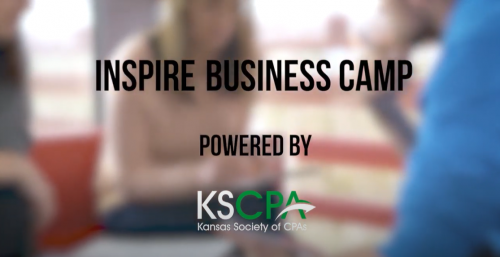 KSCPA INSPIRE Business Camp - September 30, 2021
June 2, 2021
High school juniors, seniors and recent grads are invited to attend this 1-day camp to explore how accountants are the elite power athletes of the financial and business worlds!
WHY attend? You will gain winning knowledge about key aspects of business, meet and learn from successful accounting pros and college students, get tips on college & career readiness and compete in fun team activities (e.g. pool noodle hockey, video contest and a cookout with s'mores!) PLUS: Secure your chance to win a $500 scholarship to a Kansas college of your choice and kick-start your college search by visiting the various college booths!
WHO can attend? High school students (anyone entering 11th, or 12th grade as well as those graduating 12th grade). Teachers are encouraged to bring a group of students.
WHEN is the camp? Thursday September 30th, 2021. Check-in is at 8:30am and campers will be dismissed at 5:30pm. <<schedule pdf>>
WHERE is the camp? Kansas State University, Manhattan KS
HOW do I sign up to attend the camp?
Register Here (Individual or group registrations are available!)
If you need help covering the $39 participant fee, no problem. Simply email karen@kscpa.org for scholarship information.