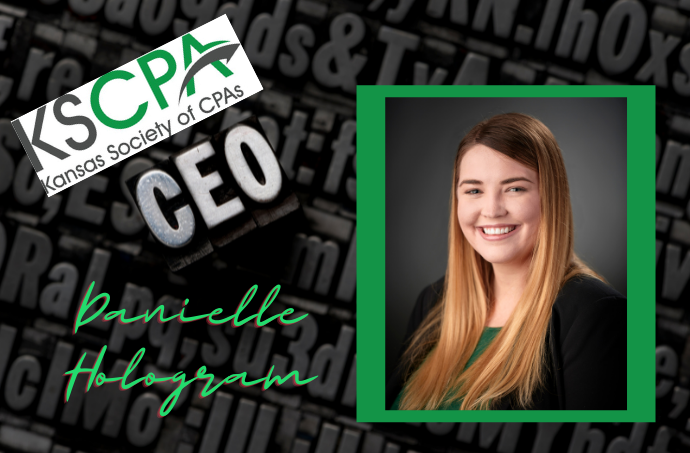 Danielle Hologram selected as new President & CEO of Kansas Society of Certified Public Accountants!
March 15, 2022
The Kansas Society of Certified Public Accountants (KSCPA) is proud to announce Danielle Hologram, CAE will be the ninth President & CEO of the organization. Danielle started her career with KSCPA in 2011 as the Membership & Marketing Coordinator. She was promoted to the Director of Membership, then Senior Director – Membership & Career Development, and now President & CEO.
"After an extensive search and interview process, it is my great pleasure to announce that our executive search committee has extended an offer to Danielle Hologram to be our next President & CEO," stated KSCPA Board Chair Amber Goering. "Danielle's extensive knowledge of and passion for the society will be a tremendous asset to the organization as we move forward. We are excited to work with her in her new role in the coming year!"
In addition to her experience with KSCPA, Danielle earned a bachelor's degree in journalism from the University of Kansas in 2011 and the Certified Association Executive credential in 2019. She is also a board member of the Kansas Society of Association Executives.
Danielle is eager to lead and continue to grow with KSCPA. "I am honored to serve the Society in this new capacity as President & CEO," says Hologram. "I look forward to continuing our mission of supporting the essential work being done by CPAs in Kansas every day and working with the board and members to chart a course for the future of the profession. I'm excited to see what we can accomplish together."
The Kansas Society of Certified Public Accountants is a 2,100+ member, voluntary association dedicated to supporting and developing its members while promoting the accounting profession. Learn more at www.kscpa.org.