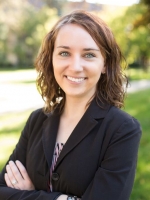 Meagan Wellbrock, CPA
Equity Partner
AdamsBrown, LLC
718 Main St, Ste 224
PO Box 1186
Hays, KS 67601
785-628-3046
---
Bio
I worked with Adams Brown as an intern while I was earning my bachelor's degree from Fort Hays State University (Go Tigers!), and joined the firm as a full-time staff member in 2007. Since that time, I have primarily focused on providing audit and attestation services, eventually being promoted to audit and attestation service line leader in 2016. I am responsible for managing audit engagements in a variety of industries, including employee benefit plans.
I am described by others as hardworking and personable. I believe in leading others by inspiring them through my actions. I am dedicated to the profession and continue to expand myknowledge. I attribute my success to the work ethic that my parents, who are also accountants, taught me, and the support of my family.
I reside in my hometown of Victoria, Kansas, with my husband, Scott. Playing and watching sports are among my favorite pastimes, as well as reading, singing, playing the piano, and spending time with family and friends.
---
Areas of Expertise
Audit and Assurance

Compilations

Employee Benefit Plans

Governmental

Internal Controls

Not for Profit

Single Audits

Interests
Accounting and Auditing

Assurance Services

Controllership

CPA Firm Administration

Employee Benefits

Ethics

Financial Reporting/Analysis

Fraud

Internal Investigations

Leadership Development

Peer Review

Practice Management

Professional Issues

Cybersecurity

Technology

Time Management

Government/Nonprofits

Management Accounting

Personal Development

Remote/Hybrid Workforce

Emerging Trends

Diversity and Inclusion

Networking and Peer Connections

Student Pipeline

---